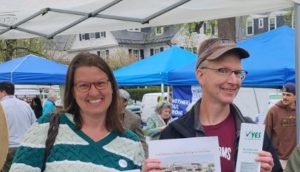 As we begin another school year tomorrow, I send a heartfelt thank you to Ben Herrington, Allison MacDonald, and Peter Demling for their years of dedicated service on the Amherst and Amherst-Pelham Regional School Committees. Over their years of service, they have all demonstrated thoughtful and deliberative decision making, compassion for our students, and grace in the face of very tough times. They were there to guide our schools through the unprecedented COVID pandemic, the switch to virtual teaching, and the passions that came with the decision on when and how to return to in-person learning. They were part of the successful development and approval of the elementary school building project, compromising where necessary to ensure that the acrimony of the first efforts at building a new school did not return. They each took on leadership roles on the various committees, giving even more of their time and energy to the community. They have been unwavering advocates for the schools.
And, while I have disagreed with each of them on many occasions, and had lively discussions on those issues, I cannot overstate my respect for Ben, Allison, and Peter. Being an elected official in Town is tough. And being an elected School Committee member is probably the toughest of them all. Everyone willing to serve in the role has my respect and admiration.
I am sorry to see them leave. Our community, and the school committees, will feel the loss of their knowledge, compassion, and steadfastness. While I, as well as many others, had hoped they would finish their terms out, I accept their need to step down now and their honesty in the reasons why.
Ben, Allison, and Peter have shined a light on the realities of being an elected official in Amherst. Let's all concentrate on their message of keeping the issues and our different opinions on them at the forefront of conversations and keeping attacks on individuals and their families out of them.
Thank you Ben, Allison, and Peter for your service to Amherst's schools and students.