It's hard to believe that it's been over 4.5 years since I was sworn in as a Councilor-at-Large on the inaugural Amherst Town Council, and over 18 months since I was sworn into a second term. Your support in the last two elections made it happen.
For the past 18 months I have worked hard to achieve a number of the priorities I ran on, as well as new ones. One of those priorities has always been moving forward the four major capital projects. I am proud to have supported the new Elementary School Building project, both with my vote to borrow the funds, and through the campaign for the debt exclusion. I continue to support the library expansion project in the face of cost increases due to unexpected inflation. I can't wait to see students enter the new elementary school in 3 short years and our residents enjoying an expanded library before then!
In my second term, I also continued efforts to meet our Climate Action Goals and focused on the housing crisis. Here's how:
Early on, Councilors Miller, Taub, Rooney, and I urged the Council to prioritize revising the Residential Rental Bylaw, to make necessary and needed improvements. The Community Resources Committee, which I chair, has spent the last 16 months working on it and just unanimously recommended the Council pass the proposed revision. This revision is a huge win for the health and safety of tenants in our town, as all rentals will need to pass a Town inspection in order to obtain a permit.
Co-sponsored streetlighting standards that would lower the Town's energy usage and improve safety.
Co-sponsored a series of zoning revisions to allow more opportunities for missing middle housing to be built in Town (duplexes, triplexes, town houses, and converted dwellings). While this legislation has been withdrawn due to an unexpected recommendation by the Town's Attorney, I intend to bring it back. And, even though it won't be acted on this term, the proposal pushed the Planning Board to begin multiple conversations about how to create more attainable and affordable housing in Town.
 Co-sponsored Special Act legislation to allow Amherst to impose fees on the sale of rental properties and properties over 200% of the area median assessed value. If enacted by the state legislature, this would provide an additional revenue stream for affordable housing projects in town.
I have also proven to be team player, co-sponsoring legislation, proclamations, and resolutions with 17 of my fellow 18 Councilors over the last two terms. The relationships I have built through this work has been invaluable.
I'm running for a third term to continue what I have started – supporting affordable and attainable housing in Amherst through various avenues, including zoning revisions, and moving forward on the remaining major capital projects.
Of particular interest is housing. We need to address our housing crisis. I will continue to put forward legislation that aims to increase the supply of affordable and attainable housing. Councilor De Angelis and I learned a lot from the hearings, comments, and process on our most recent proposals, and we will take that knowledge and build on it. I've always advocated for a multi-pronged approach, and that won't change. The revision to the rental permitting bylaw is part of that approach, as is the transfer fee legislation and the proposed zoning revisions. While the zoning revisions were withdrawn, the momentum is still there. Let's keep it at the forefront of conversations.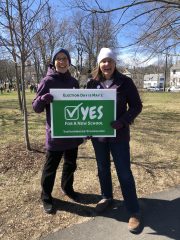 I have never worked with anyone who possessed such a combination of brainpower, industriousness, collegiality, organization, attention to detail, independent thinking, adaptability and stamina. She has a knack for bringing people together and getting things done.