It's been over 30 months since I was sworn in as a Councilor-at-Large on the inaugural Amherst Town Council. When I ran for the office in the summer of 2018 I could not have predicted what was to come. I knew it would be hard and I knew it would be time-consuming. I also knew it would be rewarding. What I could not have predicted was a global pandemic and the racial reckoning our town, state, and country faces after last summer's murder of George Floyd.
In those 30 months, I have learned a lot, much of which can't be put into words. I have worked hard, accomplished a number of legislative goals, and acted in what I believe are the best interests of the residents. If re-elected, my goals include funding the remaining major capital projects, addressing our housing crisis, supporting affordable housing, and enacting design guidelines. I hope you will support me.
In my first term, I supported:
The Jones Library expansion and renovation project;
Aggressive Climate Action Goals, including funding the elimination of on-site fossil fuel use at the Jones Library and Munson Memorial Building;
Inclusionary zoning, requiring affordable housing in all new residential developments of 10 units or more;
Funding of affordable housing through construction on Northampton Road and the purchase of land on Belchertown Road.
I wrote bylaws protecting workers from wage theft and ensuring oversight of government surveillance.
I have proven to be team player, co-sponsoring legislation with 10 of my fellow 12 Councilors.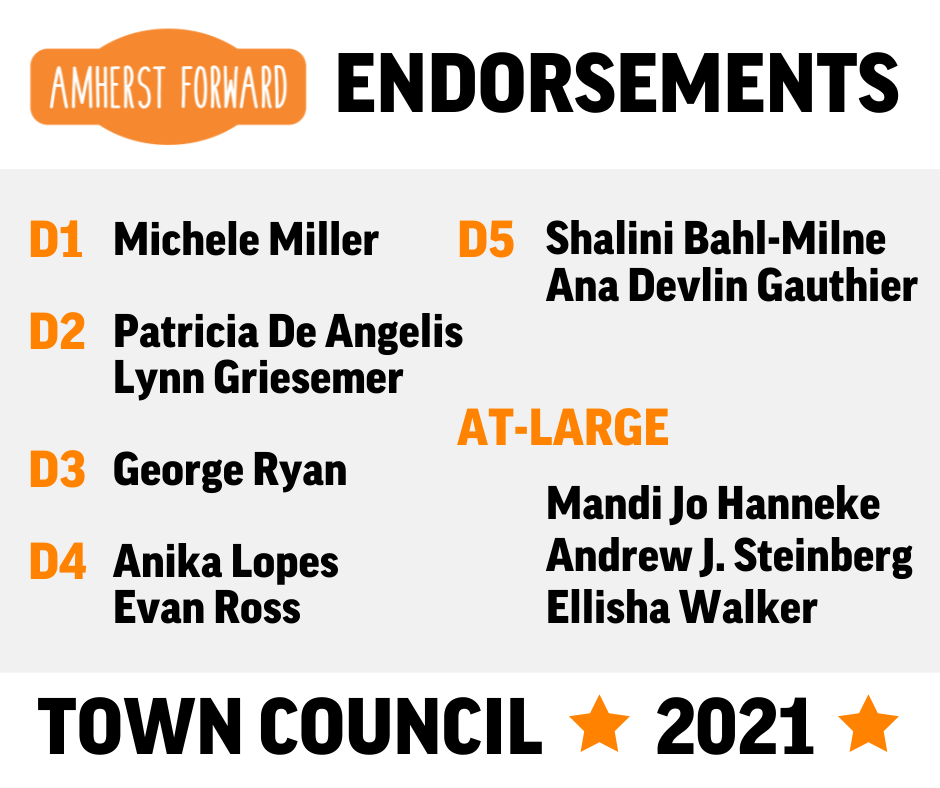 I have never worked with anyone who possessed such a combination of brainpower, industriousness, collegiality, organization, attention to detail, independent thinking, adaptability and stamina. She has a knack for bringing people together and getting things done.